Here are highlights of what's happening around town this weekend. For more details and the full list, check the Event Calendar.
Friday, December 12, 2014:
Girl Scouts Holiday Sing-a-Long & Toy Drive (7:00 pm) @ the Community House front lawn: Families of all Girl Scouts in town are invited to join the caroling. Everyone is encouraged to bring an unwrapped toy for children in need. See dedicated post for details.
Saturday, December 13, 2014:
FIRST® LEGO® League competition (9:00 am – 2:30 pm) @ Algonquin Regional High School gym: The ARHS' robotics team is hosting a qualifying competition for 4th-8th graders. Attendance is free and open to the public. See dedicated post for details.
Christmas Time Show at Reagle Theater (10:45 am – 4:00 pm) @ Bus to and from the senior center: A bus trip to see the holiday musical extravaganza in Boston. Pre-registration required. See dedicated post for details.
Holiday dance show for St. Jude's Hospital (2:00 pm and 4:15 pm) @ Grafton Municipal Center, 30 Providence Rd, Grafton Ma.01519: Patricia Brosnihan Dance Center's Annual Holiday show and benefit Enjoy free performances by the center's students (including Southborough residents). They will be collecting (optional) donations for St. Jude's Chilldren's Research Hospital. See dedicated post for details.
International Tasting (3:00-6:00 pm) @ The Vin Bin, The Crossing Plaza. Grand Opening celebration. Sample wines, craft beers, and café food. See dedicated post for details.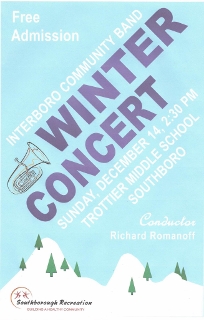 Sunday, December 14, 2014:
Interboro Winter Concert (2:30 pm) @ Trottier Middle School: Join the Interboro Community Band for its free annual concert. This family event will feature some well-loved pieces such as the King Cotton March, Holst's Second Suite and the British 8th March as well as some lesser know, but very enjoyable works. Refreshments will be available at intermission.
Heritage Chorale's Heritage Christmas (4:00 pm) @ St. Mark's School: 

The 90 member Chorale will be performing with the Gainsborough Brass Ensemble, bringing music from the Renaissance through today, with well-loved Christmas music and sing-a-longs of familiar carols. It's 

appropriate for ages 9 – adult. Ticket prices range from $10-$25 with a deal for 4th-8th grade students to attend for free. For details, see dedicated post.