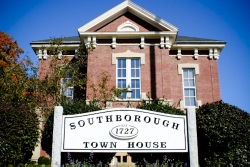 Here is a selection of the committee and board meetings for the week along with my selected highlights from the agendas. All these meetings are open to the public, so you're welcome to stop on by.
Be aware that changes to the meeting schedule are known to happen throughout the week. For a complete list of meetings, visit the town website.
Monday, November 23, 2015
Public Safety Study Committee, 6:00 pm @ Southborough Fire Department, Conference Room (agenda) Agenda Highlights: Confirm final space needs program; review of existing fire station and report; continue review of study options for preliminary design; review of draft budget- Recorded for delayed broadcast by SAM*
Cancelled – Planning Board Meeting, 7:00 pm @ Southborough Town House, Hearing Room 17 Common Street (agenda) Agenda Highlights: According to the cancelled agenda posted on 11/20, the meeting has been cancelled and the hearing on the Park Central developments is postponed to 12/7:
Main Street Design Working Group, 7:00 pm @ Cordaville Hall, Room B, 9 Cordaville Road (agenda) Agenda Highlights: Reviewing easement issues and documents with Town Counsel; discuss asthetic and amenity options outside of state funding; and make final plan changes for BOS vote and 75% plan submission
Municipal Technology Committee, 7:45 am @ Southborough Town House, Hearing Room (agenda) Agenda Highlights: Report on department participation re letter sent in October; Review status report for BOS
*Southborough Access Media will record the Public Safety Committee meeting for later broadcast on Verizon-37 and Charter-192. Click here to see this week's schedule with rebroadcast times.