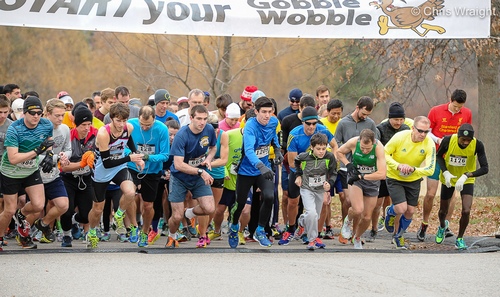 Close to 1,100 runners and walkers took time out of their Thanksgiving morning over to participate in the 9th annual Gobble Wobble.
As usual, the 5k race sported a mix of serious runners and those trotting for fun. There was also a wide range of ages. Out of 1,002 runners, Close to 140 were listed as under 12 years old and almost 60 in the 55+ group. You can find the race results here.
Another 74 walkers took on the 2 mile. And I don't have an official count, but a good sized group of kids enjoyed the fun run.
As has become a tradition, several participants sported festive attire. Southborough photographer Chris Wraight captured them among far too many great pics for me to post them all.
Here are some of my favorites of his, followed by a few of mine from the kids' fun run.
(Click an image in the gallery to enlarge.)