ARHS Theater is putting on their fall musical this week. Good News, a musical comedy about love and football, will run at 7:00 pm Thursday, December 3rd through Saturday, December 5th.
Director Tom Alera has again tapped into the school's sports program to help bring authenticity to the production.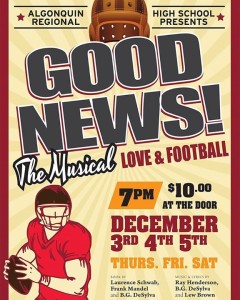 Two years ago, Alera recruited baseball players to join the cast of Damn Yankees. Clearly he was pleased with the results.
This year, he recruited Football players for a comedy that centers around a young college football star.
According to the school paper, The Harbinger interviewed the female lead:
"[Alera] needs real football players who know how to play football and act in a locker room," senior Sarah Milnamow said.
You can read the full article, here.
Of course, the cast is also comprised of theater program students including veterans of past productions.