The Southborough Library has relaunched its "Teen Crafternoon" series. This summer, they are bringing back popular crafter Mandy Roberge to lead the monthly program.
The craft projects are geared to 12-19 year olds.

Up first is decoupaging jars. Roberge describes:
All it takes is some carefully cut pages from old books, patterned paper, and magazines to turn a simple jar into an intricate work of art – whether it is to be used as a decorative holder or a tiny lantern.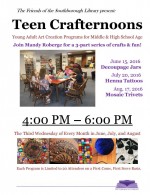 That takes place tomorrow afternoon (Wednesday, June 15) from 4:00 – 6:00 pm.
Two more programs follow, also on the third Wednesday of the month.
In July and August teens can learn to make mosaic trivets and henna tattoos.