Next Thursday, enjoy another outdoor summer concert at Neary Field. Jumpin' Juba will perform their mix of blues and roots-y rock for the community.
Once again, the Summer Concert Series concessions will support Send a Kid to Camp. This coming week, sponsor Domino's is donating the pizza for sale.
Of course the highlight is the music. So what can you expect?
Jumpin' Juba's Steve Hurl writes on his website:
On stage, Jumpin' Juba, as a trio or quartet, adds several re-arranged R&B classics to our sets, in addition to our many originals that recall the classic blues, rock & roll, and island tunes that influenced us.
As for those originals, he describes: 
New Orleans swamp-rock, classic boogie-woogie, folk, Memphis rock & roll, and a playful use of everything from calypso to country are stirred into the band's blue stew.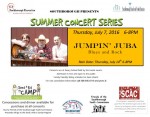 The fun is scheduled for 6:00 – 8:00 pm that night. Don't forget to bring your picnic blankets or chairs. (And maybe your dancing shoes.)
For details, click on the flyer.