Relay For Life of Northborough Southborough is continuing to support the American Cancer Society. This time, they are using a night at the Red Sox to do it.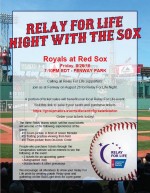 Relay teams are being encouraged to purchase or sell tickets to the August 26th Red Sox game at Fenway. Tickets purchased by August 5th will raise funds for relay teams who in turn are raising money for ACS.
Of course, supporting the cause isn't the only benefit. You also get to enjoy a Red Sox vs Royals game.
Click here for more information.