Highland Street Foundation is offering Free Fun Fridays at area museums again this summer. I've missed sharing three Fridays, but there are still 7 more to take advantage of with 60 options of museums and cultural venues from across the state.
For each of the remaining Fridays over the summer, several venues will offer free admission to the public.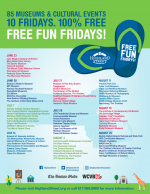 This Friday, July 14, families can visit:
Edward M. Kennedy Institute
The Metropolitan Waterworks Museum
Harvard Museums of Science & Culture (four museums)
Larz Anderson Auto Museum
Provincetown Art Association and Museum
Edward Gorey House
Museum of Russian Icons
Cape Ann Museum
The flyer above right is just a schedule overview. Sometimes the website offers more detailed descriptions for the day's event. It also provides links to the venue websites.
For details click here, scroll down, and follow links to specific dates then venues.
Of course, you may also want to explore options for any day of the week. Don't forget the Southborough Library's pass program for discount or free admissions. Click here to see their pass information.