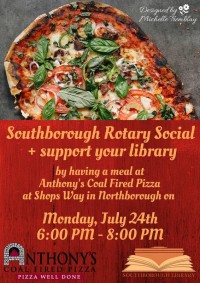 Next week, the Southborough Rotary Club is hosting a fundraiser for the Southborough Library.
Anyone who eats at Anthony's Coal Fired Pizza in Northborough will be supporting the Library. Rotary is pitching the event as a social, promising a presence by Rotary and Library Staff. And they are inviting the public to enjoy them.
On Monday, July 24 at 6:00 – 8:00 pm of participating diners' tabs will be donated to the Library.
To participate, you must tell your server that you are attending as part of the Library fundraiser.