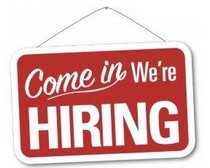 I received another posting of jobs available in Southborough. This one was from the Southborough Police Department. I also learned that the school has posted to recruit the replacement for Assistant Superintendent Greg Martineau who will be moving up to become the head of schools in June.
Here are the newest postings for jobs in town:
Southborough Police Department
Police Officer
The Town of Southborough is currently accepting applications for the position of full-time police officer. Applications can be picked up in person at the Southborough Police Dept, 19 Main Street, Southborough, MA. or downloaded from www.southboroughpd.com. Application deadline is Monday, March 25, 2019 at 4:00pm. All applications can be sent certified registered mail or delivered in person in sealed envelopes to Chief of Police Kenneth Paulhus. Applicants must meet the following minimum requirements: be a U.S. citizen; a high school graduate (college degree preferred); must be at least 21 years of age; have a valid driver's license. Full-time police academy training preferred, but not required. Cadets currently attending a full-time academy are encouraged to apply as well as past applicants. Women and minorities are urged to apply. The Town of Southborough is an Equal Opportunity Employer. (Click here for application.)
Northborough and Southborough Public Schools
Assistant Superintendent
The Northborough, Southborough, and Northborough-Southborough Regional School Districts are seeking a dynamic, motivated educational leader to support and work with the Superintendent of Schools in the areas of educational leadership and operational management beginning with the 2019-2020 school year. Salary for this position will be competitive, depending upon experience. (Click here for details.)
Special Education Aide, Grades 6-8 in Southborough (Full time) (Click here for details.)
For past job postings – some of which may still be open – click here.
(If you'd like to share your company's job openings, email mysouthborough@gmail.com.)