If you are interested in signing up your daughter or learning more about it, come to the the annual Girl Scouts registration night. The session will take place on Thursday, September 12 from 6:30- 8:00 pm. As usual, it will be held in the Finn School cafeteria.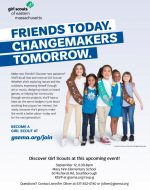 This night is really for the parents. You will have the chance to fill out forms and ask questions. (It's also a great chance for parents already involved to update their CORI forms.)
But if you do bring along your daughter, she may see some friends and they'll have something (like coloring pages) to keep the girls occupied.
If you'd like more information on what Girl Scouting is about, click here. For more information, see the flyer right for contact info.