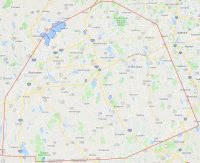 Given the continued EEE threat in mosquitoes, the state has announced that planes will again spray Southborough (among many other Towns) with pesticides .
The spraying is once again scheduled to last several evenings covering a large territory. There are no specifics on where they will start, so I can't give you better details on what night our town will get doused. Tonight is the first possible night. (So close your windows this evening!)
Here is the announcement:
September 2019 aerial spraying information
The Massachusetts Department of Agricultural Resources (MDAR) will conduct aerial spraying in specific areas of Middlesex, Norfolk, and Worcester Counties beginning on the evening of Tuesday, September 10 and continuing for several evenings. Spraying is weather-dependent and schedules may change.
The list of communities entirely within the spray zone (except for exclusions):
Middlesex County: Ashland, Framingham, Holliston, Hopkinton, Hudson, Marlborough, Maynard, Natick, Sherborn, Stow, Sudbury, Wayland
Norfolk County: Bellingham, Franklin, Medfield, Medway, Millis, Norfolk, Walpole
Worcester County: Auburn, Berlin, Blackstone, Boylston, Douglas, Grafton, Hopedale, Mendon, Milford, Millbury, Millville, Northborough, Northbridge, Oxford, Shrewsbury, Southborough, Sutton, Upton, Uxbridge, Webster, Westborough
The list of communities partially in the spray zone:
Middlesex County: Weston
Norfolk County: Dover, Foxborough, Needham, Norwood, Sharon, Wellesley, Westwood, Wrentham
Worcester County: Bolton, Charlton, Clinton, Dudley, Harvard, Leicester, West Boylston, Worcester
Visit MDAR's Aerial Spraying Map for more details.
While the state insists the pesticides are harmless to humans, they do provide tips for those concerned:
Even if no precautions are required, are there extra steps people can choose to take if they are still concerned?
Although not necessary, steps that can be followed in areas where aerial spraying is scheduled to take place include:

Close windows and turn off fans in spray areas. Shut off air conditioners unless they have a setting for recirculating indoor air. In very hot weather, you can open the windows or turn fans and air conditioners back on soon after the aerial spraying is completed.

Keep pets indoors during spraying. Although pets that remain outdoors could be exposed to small amounts of Anvil 10+10, they are not expected to experience adverse health effects from the spraying. There are many pesticide products (e.g., flea collars, pet shampoo, dips) containing similar ingredients that are used directly on pets to control ticks and insects.

If clothes or outdoor items are exposed during spraying, wash them with soap and water.

No special precaution or waiting periods are needed for outdoor swimming pools.