Almost two years ago, I shared news of a new business opened in town by residents. Now, Southboro Wellness is about to celebrate its 2nd Anniversary with another "Customer Appreciation Day".
This event is FREE for clients, patients and community members. We are welcoming in local businesses to promote their offerings and provide some wonderful experiences – such as free seated massages, acupuncture, laser therapy, mindfulness seminar, a salmon tasting event and a store discount all day.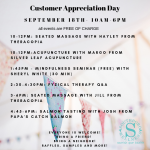 The event takes place a week from today – Wednesday, September 18th from 10:00 am – 6:00 pm. Here is the schedule:
10-12pm – Seated Massage with Theracopia
10-12pm- Acupuncture with Silver Leaf Acupuncture
1:45pm – Mindfulness & Meditation with Sheryl White
2:30-4:30pm – Fyzical Therapy QA
3-6pm – Seated Massage with Theracopia
5-6pm – Salmon tasting with Josh from Papa's Catch Salmon (Salmon available for sale)
All of these take place at 205 Turnpike Road. If you have questions, call 508-353-0483.