Several readers commented on my post last night saying that aerial spraying was still pending. They updated me (and therefore many of you) that the spraying had already occurred.
Some residents had heard the low flying planes in the middle of the prior night. (Technically, if 2:30 am is correct, then it was early on the morning of Monday, September 16th. But the state refers to the spraying as Sunday, September 15th since that's when it began.)
One reader referred me to a map that was updated with a legend clarifying the sprayings that had taken place. I copied and pasted the map and the legend below: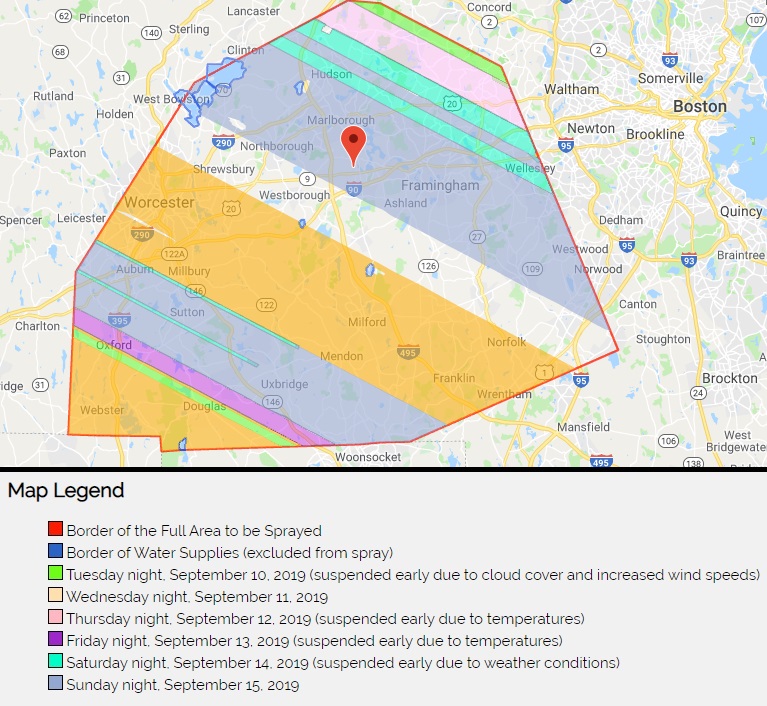 My original thought was that the map must have been updated after I spoke with a state official yesterday morning. But backtracking to see where the link comes from, I realize now that it was user error on my part and presumably the same error was made by the state official I was speaking with. It seems both of us clicked on the wrong map links. So, my apologies for the confusion.
(As for why the state incorrectly informed the Board of Health that the spraying was still pending, that I can't say.)