This weekend, the Southborough Library is hosting an event that will appeal to both chocolate lovers and tea connoisseurs. The community is invited to come out and learn how pleasant pairing the two can be.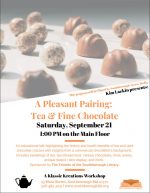 Kim Larkin of Klassic Kreations will return* to the Library to talk about the history of tea and chocolate. She'll be showing off her display of antique pots, quizzing participants on trivia, sharing poetry and more.
Of course, the best part is the tastings. In addition to tea and chocolate, there will also be tea infused baked goods.
The event will take place Saturday, September 21, at 1:00 pm on the main level. It is open to all, no registration required.
Below are some photos from past events she held on these and similar topics.
The free event is sponsored by The Friends of the Southborough Library.
*You may recognize Larkin from one of her past tasting events at the Library. She successfully entertained in 2017 with her tips for serving chocolate at the holidays. (You can check out the video here.) More recently, on St. Patrick's Day 2018, she ran a popular program about Celtic foods and culture. (You can check out that video here.)