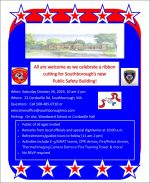 The long awaited grand opening of the Public Safety Building is scheduled for this Saturday, October 26th. The ceremony will start at 10:00 am with remarks from "local officials and special dignitaries".
That will be followed from 11:00 am – 2:00 pm with activities and refreshments, plus the long awaited public tours of the new facility. All ages are invited with no RSVP required.
The Town has released new details about the activities scheduled:
Activities include K‐9/SWAT teams, CPR demos, Fire/Police drones, Thermal Imaging Camera Demo in Fire Training Tower & more!
Parking for the event will be on site at 32 Cordaville Road. (Be sure to enter using the driveway on the left.) Overflow parking will be available next door at Woodward School and across the street at Cordaville Hall.
If you have any questions about the event, contact the Board of Selectmen's office at 508-485-0710 or selectmenoffice@southboroughma.com.