If inspirational stories about healthcare workers have you considering taking up a career in nursing, you're in luck. You can apply now and become a Licensed Practical Nurse by next summer.
Asssabet Valley Regional's Post-Secondary LPN program is still accepting admissions. This spring's closures pushed back the regular deadlines. The 10 month program will now begin September 1st for completion in June 2021.*
Southborough is in the school's district.** That means our residents are in the preferential applicant pool and entitled to significantly discounted tuition ($3,000 vs $16,856).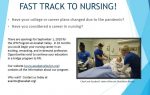 The application package needs to be submitted prior to registering for Assabet's June 18th TEAS (Test of Essential Academic Skills) exam. You can find the details and forms here.
To confirm some details, I reached out to Ellen Santos, the Director of Practical Nursing. She pitched:
If someone had planned on attending college for nursing they could earn their LPN while they wait. It is also an excellent career option for anyone who has become unemployed.
She also clarified that no fee is required until the student accepts the admission.
This winter, Assabet posted a vimeo video promoting its program. You can watch that below (or here).

The program website includes information on its success rates, based on the class of 2018-2019:
84% completion rate
95% first time pass rate on NCLEX
95% employment of licensed graduates within 6 months

Of the students who completed this program in 2018 normal time, the typical graduate leaves with $6,552 of debt. The program meets licensure requirements in MA. For licensure in another state check the requirements from that state board of registration in nursing. For information about graduation rates, loan repayment rates, and post-enrollment earnings about this institution please visit https://collegescorecard.ed.gov/
I asked Santos about the impact of school closures on this year's class. She answered:
We transformed to a fully distance education program on March 17and the class of 2020 will complete the program on time on June 17. We are pleased and proud that we have not lost a student with this transition.
*Ignore info on the website referring to the program beginning in late August. The start date was pushed to September. I confirmed that other dates on the website are accurate, including the exam date and Orientation.
**The other district towns are Berlin, Hudson, Marlborough, Maynard, Northborough, and Westborough.