Reminder: Click here to register to take part in the annual NECC 5K tomorrow. If you missed my prior post, it will take a different form this year.
Each May, the New England Center for Children holds a 5K fundraiser in Southborough.
Normally, throngs of people clog the streets around the Neary School campus to walk or run. Then they gather in a post-5K lunch and celebration. It's always a great showing of community support for NECC. Most importantly, it raises money for the school's autism research and education programs.
Clearly, the large gathering isn't a good idea right now. Like many organizations at this time, NECC is pursuing a virtual substitute. This year, participants are encouraged to walk or run 5K that day on their own and share their experience as part of a "Social Media Party" on Saturday, May 9th.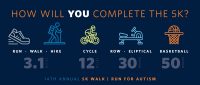 An image on the website (right) also offers alternative ways to participate, including biking 12 miles or playing basketball for 50 minutes.
And, of course, the fundraising website allows making gift contributions in addition to (or in lieu of) participating.
Here are the event details:
THE NECC 5K WALK/RUN IS GOING VIRTUAL

SOCIAL MEDIA PARTY | SATURDAY, MAY 9, 2020

That's right–we are still fundraising, we are still sharing stories of inspiration and impact and we are still having a 5K, just not physically together at Neary School in Southborough. From now until May 9th we encourage our supporters to register and fundraise for the children at NECC. On May 9th, our virtual event will conclude with a day of fun social media sharing.

You can run, jog, or walk on the road, on the trail, on the treadmill, at the gym, or on the track. You get to run your own race, at your own pace, and time it yourself.

Once you are done, SHARE IT! What was your time? Did you run in your living room? Did you wear a crazy costume? Let us know how creative you got and who knows, you just might get a prize for sharing your unique way of participating.

HAPPY FUNDRAISING!

NEW THIS YEAR!

Individually fundraise $75 or more to receive the official 5K Dri-FIT t-shirt.
(limit one per person).
For more information, or to register, click here.