Teachers in our schools (and across the country) have been trying to help students continue to feel connected. Spring is usually the time when student achievements over the course of the year are celebrated. Since large gatherings are out, schools have to look for other ways.
Looking at what Neary has been up to, I was delighted to find a series of fabulous videos and digital presentations. They lifted my spirits and I don't even have kids at Neary anymore. So, I'm sharing them with you.
The school has made use of digital platforms to share art shows and concerts. And educators have been having fun with videos sharing their inspirational Kindness Rocks and a music teacher's Star Wars inspired celebration of music.
Here are some highlights. (You can look for more in Neary's online newsletter, Facebook page, and Principal Kathleen Valenti's tweets):
Art Shows
Neary Art teacher Denise Johnson shared her students' work in two special presentations
At Home Art show #1 – Click here to view slideshow with music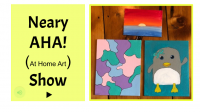 At Home Art show #2 – Click here to view slideshow with music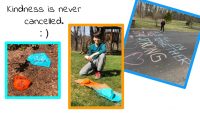 Central MA Youth Art exhibit
The school shared a video with students art that made it into the annual regional exhibit.
Four of our Neary artists' work was included in the 2020 Central Massachusetts Youth Art Month Exhibition. Although the show was canceled, they made a wonderful video showcasing a collection of amazing talent!
Below are links to Neary students' highlighted work. (You can see the full video here):
Virtual Concerts
Band teacher Lindsey Sherman led students in several concerts and performances over zoom this spring. (In case you have trouble viewing the videos below, I also inserted links.)
King William's March by 4th Grade Band in April (click here)
Mistress More by 4th Grade Band in April (click here)
Foggy Dew & Kesh Jig by 5th Grade Band in April (click here)
"Song Sheet 5" by the 4th Grade Band last week (Click here)
British Grenadiers by the 5th Grade Band last week (click here)
Teachers Connecting
This special Kindness Rocks video by teachers was shared with this message to Neary Families:
We hope this posting finds everyone healthy and safe. This has been and continues to be a difficult time for all and the Neary staff wanted to let each of you know we are missing our students each and every day! Please check out our video and know that every word and phrase comes from the heart. Stay well and the day can't come fast enough when we can all be together, again!

Missing one and all,
The Neary Staff
May the 4th Be with You
It looks like Neary Music teacher Miss Fitzgerald has been trying to keep classes fun. On May 4th, she used "Star Wars Day" to engage student interest with this video.