Next week, a special workshop series launches for Southborough parents. In case you missed the news the first time, or forgot to sign up, I'm reposting the info.
As of this morning, there were 8 slots left in the free series. So sign up quickly.
Below are the details from my original post.
---
Southborough Youth and Family Services understands that many parents struggle to help their anxious and/or depressed children even in normal times. And these times certainly aren't normal.
The agency is holding another weekly series of workshops for parents. They're bringing back Licensed Social Worker Kerrie Toole who ran their "Next Level Parenting" series. SYFS Director Sarah Cassell explains that this series will be a little more intensive.
The "Strategies for Parenting the Anxious or Depressed Child" workshops will teach:
some interventions frequently used by clinical and behavioral specialists to diffuse crises and reduce conflict while still setting limits and boundaries.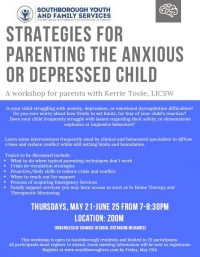 The flyer promotes:
Is your child struggling with anxiety, depression, or emotional dysregulation difficulties?

Do you ever worry about how firmly to set limits, for fear of your child's reaction?

Does your child frequently struggle with issues regarding their safety, or demonstrate explosive or implosive behaviors?
The sessions will cover topics including:
What to do when typical parenting techniques don't work
Crisis de-escalation strategies
Proactive/daily skills to reduce crisis and conflict
When to reach out for support
Process of acquiring Emergency Services
Family support services you may have access to such as In Home Therapy and
Therapeutic Mentoring
Sessions will be held over zoom on Thursdays, beginning May 21st from 7:00 – 8:30 pm. They will run through June 25th, and continue to be held online even if distancing guidelines change.
As with the past workshops, participation is free but it is limited to the first 25 pre-registered Southborough residents. To sign up, register through Southborough Recreation here.