Next week, local artisans will again band together to hold an Art and Gift Sale in Southborough. Attendance is open to the public and free. The sale will take place on Saturday, November 7th from 10:00 am – 4:00 pm.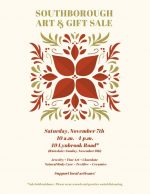 Unlike in past years, the sale will be held outdoors. (That means there is a rain date – November 8th.*)
Traditionally, the sale has been held closer to the December holidays. But, like everything else these days, safety concerns required coming up with a new plan.
The annual collaboration of artisans dates back 11 years, originally sited at the Chestnut Hill "Stables". Due to the popularity among customers and artisans, that expanded four years ago to include a satellite location at the L'Abri Fellowship center. The second location will serve as the only site this year.
The sale will be held on the fellowship's grounds at 49 Lynbrook Road.
Nearly 20 local artisans will be selling their work. (Some of the usual vendors had to forego the sale this year, but there are new artisans joining the group.) Artisan goods will include jewelry, fine art, chocolates, natural body care, textiles, and ceramics.
*There is an event page on Facebook. If weather is iffy that weekend, I'd advise checking there for an update on rain date plans.