It's a great time to clear the shelves and closets of some of the things your children have outgrown before you buy new items for the holidays.
No, the swap shop didn't reopen. A Southborough Girl Scout is asking the community to donate used children's books, kids games, and craft supplies to families in need. That includes low income families and those in transition.
Items can be dropped off at 11 Oland Lane (in the plastic bin a the end of the driveway). The collection will run through Sunday, December 11th. After that, the items will be passed on to Fresh Start Furniture Bank and Head Start.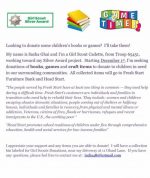 For those unfamiliar with the organizations:
Head Start is a federal program that offers early education and care programs and services for low-income families.
Fresh Start is a volunteer run charity in Hudson. They donate used items to people in need.
The people served by Fresh Start have at least one thing in common — they need help during a difficult time.

Fresh Start's customers are individuals and families in transition who need help to rebuild their lives. They include:

Women and children escaping abusive domestic situations
People coming out of shelters or halfway houses
Individuals and families in recovery from physical and mental illness or addiction
Veterans
Victims of fires, floods or hurricanes
Refugees and recent immigrants to the U.S.
The working poor
The collection is run by Girl Scout Cadette Sasha Ghai of Troop 65451. The initiative is part of her Silver Award project.