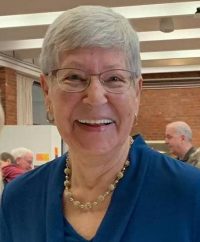 The Youth Commission Board and the Friends of the Southborough Youth Commission nominated and voted on this year's recipient for the annual Laurie Sugarman-Whittier Wellness Award. Resident Barbara Jandrue was recognized as:
an exceptional individual who has served the Southborough community as a human services advocate, has promoted human welfare, and continues Laurie's mission of making Southborough a better place for all.
For over 20 years, Jandrue has supported the Southborough Food Pantry. Back in 2019, the Community Advocate covered why the Southborough Rotary Club honored her for her service to Southborough. It noted that as the current Director of the Food Pantry:
her duties include scheduling, shopping, organizing, picking up donations, talking with clients and a bit of everything.
As we all know, this year the pandemic has added challenges to that work while increasing the demand for the service.
The letter from the Youth Commission notifying Jandrue of her latest award explained:
This award is especially well deserved this year, with the hardship 2020 has brought to so many. . .

Your nomination letter described your many years of service, dedication, commitment, work ethic, and compassion towards others. It is evident you go out of your way and dedicate countless hours of your time to help others. This year like so many others, you have continued to provide critical support to individuals and families in Southborough and you are an incredible asset to this community. We thank you for your service!

Please accept this token of appreciation and thanks on behalf of the Southborough Youth Commission Board and Friends of the Southborough Youth Commission, for going above and beyond in supporting the well-being of our community and its residents.
The introduction of the letter shared more background on the award's roots:
Each year, the Southborough Youth Commission Board chooses a recipient for the Laurie Sugarman-Whittier Wellness Award. Laurie Sugarman-Whittier worked for the town of Southborough for over 30 years as the Director of the Youth and Family Services department. As a Licensed Clinical Social Worker, she worked with hundreds of Southborough residents and families providing emotional support, financial assistance, and a dedication to fostering health and well-being in the Southborough community. Her commitment and dedication left a lasting impact on the community and so, after her retirement in 2016, the Youth Commission Board created this award in her honor.
Updated (12/21/20 7:47 am): I accidentally typed "Laura" Sugarman-Whittier in the headline. My apologies.