Southborough Firefighter's Association is continuing its over 50 year tradition of selling Christmas trees. Trees will be sold out of the Southborough Golf Club parking lot behind the public safety building at 32 Cordaville Road.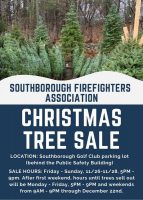 The sale starts this Friday evening and runs until their trees sell out. To avoid interfering with the last few days of the golf season, the SFA's hours will be evenings only through this weekend. Daytime sales will begin the following weekend.
Friday, November 26 – Sunday, November 28, hours will be 5:00 – 9:00 pm. Weekdays will continue to be 5:00 – 9:00 pm. Beginning December 4th, Saturday and Sunday hours will run from 9:00 am – 9:00 pm.

At the SFA tree lot you can usually find a wide range of tree sizes, ranging from 5-feet to 13-feet, all with reasonable prices. They offer a fresh cut for the tree before you take it on the road.
Unfortunately, due to Covid safety procedures, for the second year the firefighters can't tie the trees onto vehicle roofs. The good news is that if you live in town, they can deliver it for you (for an extra $10 on specific days, TBD).
As they did last year, the SFA is offering an option to pay electronically.
Proceeds from the sale benefit the Southborough Firefighters Association.