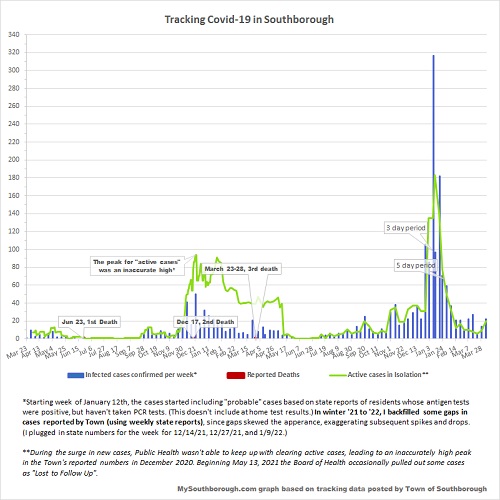 It's been over a week since I shared Covid stats in the town and schools. So, it's time for an update.
Southborough's latest numbers were posted this morning, April 4th. There were 22 new or probable cases confirmed in one week, 36 in two weeks. That's an uptick for the second week.
The Town's cumulative total over the course of the pandemic is 1948 cases with 20 cases labeled active.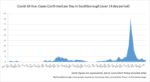 The daily average for our Town over two weeks is 2.6 cases.
In overlapping data, the State's latest report from Thursday showed an Average Daily Incidence Rate per 100,000 of 11.8 (a decrease for the 2nd week).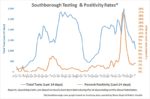 The state's positivity rate for tests did show a slight uptick for the second week. (It's now at 2.51%). The positivity rate of tests was 2.24%, a decrease for the 2nd week.
Below are more of my updated graphs include demographic info from the Town's report, plus a look at the state's map for the region.






The most recent Northborough-Southborough Public Schools District Dashboard covers through Wednesday, March 30th. In one week, 39 cases were reported, 22 from Southborough K-8 and 4 from ARHS.
Daily counts covering through Friday, April 1st showed another two cases. (One from Algonquin and one from Trottier.)
The Dashboard spike included results from two rounds of the screening program that came back in the same 7 day period.

The most recent screening (from last Monday's tests) identified 9 cases.
Participation in the screening program was up from the prior week.