This weekend, artists will be installing their works for Southborough's 6th annual Art on the Trails. Organizers invite you to come out to meet them and watch the process.
Southborough Open Land Foundation hosts the summer-long exhibit alongside trails at Beals Preserve. The installation event runs from 10:00 am to 5:00 pm this Sunday, June 12th.
There is a specified time for viewing each work. You can find those and the locations in the map below right. (You can also open a pdf version here.)
This year's theme is Exposure. The 15 artists selected for the juried exhibit are:
Sarah Alexander, Hopedale, MA
Bill Cohn, Lexington, MA
Matthew Cahill, Brewster, MA
Trish Dehls, Woodstock, CT
Michael Greenberg, Medford, MA
Denise Johnson and the Margaret Neary Elementary School children, Southborough
Bob Kephart, Southborough
Christopher King, Worcester, MA
Madeleine Lord, Dudley, MA
Margot McMahon, Oak Park, IL
Jason Peoples, Southborough
Gary Phillips, Northborough, MA
Anna Thurber, Weston, MA
Patrick St. Pierre, Framingham, MA
Catherine Weber, Southborough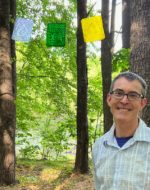 Not all fifteen appear in the schedule. A post on the website explains that Phillips was "an early exception" who already installed his work Gentle Buddha by the Ice Pond. Another photo on the website indicates that Cahill already began work on "Unanchored Roots" which is one of the pieces being created on site.
The exhibit will remain on display for the public through September 11th. Below are more details from the press release:
Art Juror [Maine sculptor] Anne Alexander said: " I thoroughly enjoyed viewing the wide variety of creative submissions, and considering how they would interact with the natural landscape at The Beals Preserve. My only challenge was winnowing down the many strong submissions to a total of 15. Walking along the trails, visitors will experience many delightful sculptures, each using different forms, textures, materials, imagery and concepts."

Deborah Costine, Vice President of Southborough Open Land Foundation (SOLF) said, "The Southborough Open Land Foundation is pleased to host another summer of Art on the Trails at Elaine and Philip Beals Preserve and provide this remarkable piece of property to artists for inspiration for this year's theme of EXPOSURE. Once an artist is in the woods, the honesty and simplicity of nature energizes creativity and the imagination."

In addition to the installations, the program will include poetry written in response to the work and will be juried by Route 7 Press founder, poet, and Hopkinton resident Maura Snell. A prize winning poem will be selected from submissions by poet Wendy Drexler.

Learn more about this event at www.artonthetrails.com or by contacting Program Director Catherine Weber at cweber@artonthetrails.com or 508-523-3605.
In addition to support from SOLF, organizers thanked the Southborough Community Fund and Southborough Cultural Arts Council (through the Massachusetts Cultural Council) for their funding support.