The Library is launching a crafty new program for residents looking to take up a new hobby this summer. The Thursday evening program is to "Learn to Knit".
Pre-registration is required for those seeking to learn. Those of you who already know how to knit are welcomed to drop by and knit with them.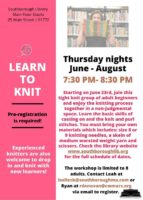 Here's the Library's description:
Join this tight knit group of adult beginners and enjoy the knitting process together in a non-judgmental space. Learn the basic skills of casting on and the knit and purl stitch. You must bring your own materials which includes: size 8 or 9 knitting needles, a skein of medium weight yarn and scissors. Pre-registration is required. Contact Leah at lselleck@southboroughma.com or Ryan at rdonovan@cwmars.org via email to register.
The program takes place weekly at 7:30 pm on Thursdays, June 23rd through August 18th.
Updated (6/16/22 3:25 pm): Apparently, there's a lot of interest in this program. The list is already full with a waitlist.