When I told readers to sign up for the big, annual Thanksgiving Day race, we still hadn't even celebrated Heritage Day yet. With just over two weeks to go (and a nip in the air that's back to feeling like fall), it's a good time for a reminder.
Registration is open for the 16th annual Gobble Wobble. Sign up now to take part in Southborough's 5K run/2 mile walk.
(A slice of pie will taste even sweeter when you've already burned it off!)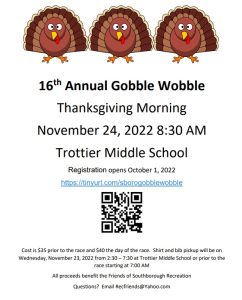 Early Bird discounts are available for registering online (here) in advance. (Additional discounts can be given to families with 5+ members if you reach out for a discount code.)
As usual, you can pick up your shirt and bibs with chips the day prior (Wednesday, November 23rd from 2:30 – 7:30 pm at Trottier) or that morning (starting at 7:00 am).
The flock of runners will take off at 8:30 am on Thanksgiving morning from Trottier Middle School for the 5K loop around Parkerville and Deerfoot Roads. Medals will be awarded for top times for males and females (overall and in multiple age categories.)
Walkers can strut at their own pace on a shortened path that starts and ends at the same lines.
[Note: There's no kids fun run this Thanksgiving. But you can sign up for this Sunday's "Kids! Turkey Trot" fun run here.]

Babysitting won't be available at the Gobble Wobble. But it's not an uncommon sight to see families with little ones in strollers, backpacks, or tagging along.
Another important reminder — The event is only possible with the help of community volunteers. To sign up to help out the day of or prior, click here.
The annual event is put on by Friends of Southborough Recreation (FOSR). Its their only big fundraiser to support community events, recreational programs and activities.
FOSR is currently seeking volunteers to help them do the behind the scenes work necessary for running the annual community event and fundraiser. If you would like to help, or learn more, please email Recfriends@yahoo.com.
You can find FOSR's website here. To follow them on Facebook, click here.