On Monday, the Public Works Planning Board held an overdue meeting for the purpose of responding to an Open Meeting Law Complaint about minutes that weren't timely posted.
With 2 of the 5 members firmly in his corner, Bill Boland retained his seat after protracted debate about the responsibilities of the Board and the seriousness of the violation complaint.
Boland shrugged off concerns about legal issues, delayed minutes, and infrequency of the Board's meetings. He referred to them as stemming from the Board being "a target for people who weren't happy with the DPW Superintendent" who did an "excellent" job. And he continued to reject that the Board should be proactive about overseeing public works' projects.
Once past minutes were approved, the Chair indicated he considered the violation accusation to be resolved. (Scroll down for more on the minutes issue.)
Boland also again defended the infrequency of the board's meetings, which has been a public source of contention.
The issue was raised in debates over whether Debbie DeMuria should replace Boland as Chair and what the role of the Board should be going forward.
Officer Responsibilities Debates
This was the first time the Board met (outside of another committee's joint meeting) since DeMuria was appointed in June. The change meant it was time to re-vote on Officers.
The infrequency of meetings was a major focus of the debate over the Chair's responsibilities and who was most suited. Monday was just the fifth meeting Boland has scheduled since becoming Chair in April 2019. And this one was prompted by the Attorney General's office notification that they were investigating the Open Meeting Law complaint.
The meeting was set for the same time as the regularly scheduled, posted meeting of the other Board on which DeMuria sits. That created a clear scheduling conflict for DeMuria who missed more than an hour of the Planning Board's meetings with public hearings. (In the meeting, DeMuria asked Boland if he could check with other members on their schedules before setting future meetings.)
Member Sam Stivers nominated DeMuria to take over as Chair. Prior to her addition to the Board, Stivers had been the sole member of the PWPB advocating it meet more often and take on a wider range of topics. He reiterated his view on Monday, pointing to DeMuria's interest in doing just that. DeMuria seconded her nomination.
Vice Chair Mark Bertonazzi then nominated Boland. He advocated they had worked well together and touted Boland's "extensive experience" as a former Selectman and long knowledge of Town politics. Member Jim Harding seconded the nomination. Although the writing was on the wall, DeMuria spent some time trying to make her case.
Last March, DeMuria submitted a letter to the Planning Board and Select Board complaining that by meeting infrequently and not approving minutes in a timely manner, the PWPB was failing to meet its charge to advise the Select Board on "matters of planning, managing and financing". She advocated for Boland to resign from the Board and for the two members whose terms were expiring to be replaced. Included in her arguments was the suggestion that the board should be more actively involved in issues regarding removal of trees.
Subsequently, DeMuria was elected to the Planning Board. Soon after, the Board considered her request to replace longtime PWPB member Sue Baust. At that meeting, Boland blasted Planning members for disrespecting the PWPB and Baust.
He accused Planning as being in the wrong for scheduling the vote without the courtesy of first reaching out to her and seeking the Board's recommendation. He defended that the Board hadn't been meeting because the DPW Superintendent didn't needed their help and the Select Board hadn't requested it. (Baust said she had agreed but would be willing to be more proactive based on the Planning Board's comments.)
Planning Members voted to support DeMuria and her philosophy that PWPB's charge doesn't require their advice to be requested. (The other member, Harding, was reappointed by Moderator Paul Cimino without public discussion of their views.)[1]
On Monday, DeMuria told Boland that she used to respect him and noted that he asked good questions at their last meeting with Capital. But she thought he was no longer up to the task and was doing the board and town a disservice.
DeMuria argued that setting the agenda is one of the most powerful things a Chair can do for a committee. She stated that he hadn't been setting agendas. She believed he should be calling for public comment and agenda topics. She would like to hear from others about what they would like on the agenda.
Boland responded by highlighting DeMuria had "forced" a good member off the Board so she could be on it. He said that the Board maintained the view that the Board shouldn't meet for the sake of meeting or spend time working on topics the Select Board may not want advice on or ones that other committees are formed to look at.
Following the Chair vote, Bertonazzi was quickly re-elected as Vice Chair.* After no one raised their hand to be Secretary. Boland said he would continue to cover that duty.
Board Direction Discussion
Throughout the meeting, Boland reinforced his view that they meet only as needed to review topics as requested by the Select Board or DPW chief. It was a stance Bertonazzi defended as in keeping with their long practice. They noted that people often "come to" the PWPB with issues they want them to investigate, motivated by "personal agendas".
But Boland also indicated that the PWPB might not take up every topic the Select Board asks them to.
The Chair stressed that they didn't want to waste time reviewing projects being considered by other committees/boards. He said the Board refuses to become "the Tree Committee". He also dismissed the idea that his board would be looking at different aspects of projects or providing a valuable perspective based on their expertise.
In a back and forth, DeMuria said that some of the items taken on by the Select Board were because they didn't trust the PWPB to take it on. He responded, "What if we don't trust the Select Board?", then confirmed that as a former member who knows "how it works", he didn't trust them "all the time".
Boland mentioned a member they lost because because the Select Board kept asking them to look at the Transfer Station. (He was referring to the PWPB having researched and reported on a recommendation for the fee structure that was disregarded, only to be asked in a future year to do it again.)
Select Board Chair Kathy Cook acknowledged that it is frustrating to put in work then have advice not taken. Boland responded that making a different decision is fine, as long as the advice isn't ignored.
Cook asked about what the board wanted "to be" given its broad vague charge. And she asked about the process for the Select Board asking PWPB to meet on a topic. Boland reminded that Select Board Member Andrew Dennington had recommended the PWPB not be called on to meet until after a new DPW Superintendent is hired.
The timeline for that new hire was delayed when the finalist who, according to Cook had "accepted the job", changed his mind. The Select Board is in the process of reopening the search.
On Tuesday night, Cook updated the Select Board on Monday's discussion. She said she agreed that the Board shouldn't meet until after the Select Board is able to discuss priorities with a new DPW Superintendent.
Open Meeting Law Complaint regarding Meeting Minutes
In discussions of overdue minutes Boland highlighted that draft minutes had been posted (though two weren't) and the meetings were available to watch.[2] (However, residents don't know if draft minutes contain omissions or errors that other Board members would revise, and watching videos would require residents to invest several hours in viewing time.)
When the Board discussed approving minutes from January 2021, Boland noted that they were "probably good" since Stivers didn't have any edits. Stivers responded he didn't know about that given the meeting was over a year ago.
After approving the minutes, Boland said he believed that resolved the OML complaint. Patricia Burns Fiore noted that the Board still had to send her and the AG a response. And DeMuria thought they probably had to provide an explanation for delays.
The Chair stressed that delayed minutes are natural for a committee that doesn't meet on a monthly basis. On advice from the Town Clerk, they were in the habit of posting draft minutes until minutes could be approved. Bertonazzi defended that as the Board's practice.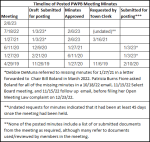 That doesn't explain why draft minutes for the meetings held in January '21 and July '22 weren't posted or shared upon request until January 3rd, after the filing of the Open Meeting Law Complaint. Nor does it explain why official minutes weren't posted until January 3rd, despite having been approved in 2020 and 2021.
A deflection that it was complicated by being deprived of their Secretary this summer also ignores that delayed postings predated that membership change. (See image above right for my summary of timing details.)
When someone suggested the OML complaint was unprecedented, Boland scoffed that plenty of Boards had received them, including the Select Board. Stivers confirmed that. (And records confirm that most complaints were against the Select Board, with several confirmed as valid.)[3]
In some prior cases related to missing minutes, residents/attorneys appear to have jumped straight to filing OML complaints when delinquencies were discovered. In this case, Fiore first provided multiple chances for Boland to respond to her request. (And it's the ignoring of those requests that seems to have created a likely OML violation.)
It seems the Board did violate Town bylaws adopted in 2016. That requires that committees submit minutes and related documents (or their filing locations) within 45 days of a meeting. However, those minutes can be a draft version not yet voted on.
But that wasn't a violation of the state law, which provides a longer window. According to the Attorney General's office:
A "timely manner" will generally be considered to be within the next three public body meetings or within 30 days, whichever is later, unless the public body can show good cause for further delay.
(As for timing of submitting to the Town Clerk the official minutes after they were approved, I couldn't find a deadline for the standard submission. I don't know how the AG's office will view that submission delay, since Boland could argue that he did "maintain them" for the town.)
Still, committees are required to provide requested minutes (or an explanation) within 10 day of a request from the public.
Fiore emailed Boland on October 18th, referred to it at a November 15th discussion with him at a Select Board meeting, and followed up with another email that evening. She confirmed his receipt of the emails via a public records request. She then filed her Open Meeting Law Complaint on December 23rd.
In emailing the OML complaint to Boland and the PWPB, Fiore included the AG's requirement that the Board meet to discuss the complaint and submit a response to Fiore and the Attorney General's office within 14 business days.* Instead, it appears that Boland submitted minutes and draft minutes to the Clerk's office on January 3rd. But he didn't call a meeting of the Board or send a response to Fiore and the AG.
After the deadline passed, on January 20th the AG's office contacted Boland and the Town asking for the status of their response. Having not received a response, an attorney from the AG's office was assigned to the complaint and the Town was notified on January 27th. Two days later, Boland scheduled a meeting of the Board for Monday, February 5th.
Although DeMuria expressed upset about the complaint, there was no discussion as to whether she or anyone else had urged Boland to schedule a meeting prior to the response deadline.
Commenting from the audience, Select Board Chair Kathy Cook agreed with Boland that his board wasn't alone in receiving complaints, but she said this was the most egregious case she had seen. (Although, I personally believe the ZBA's 2018 violation was worse.)[4]
To avoid repeated complaints, she suggested the Board hold future meetings over zoom to quickly approve minutes. Boland said that would trigger more minutes. Stivers pointed out that some boards handle that for one item agendas by writing and approving the minutes for that meeting within the meeting. Boland indicated he would consider that going forward.
[1] One of the ways that the Public Works Planning Board is different than most boards/committees is that 3 members of the Board are appointed by the Moderator and the other 2 members by the Planning Board. Planning must vote on their appointments in public meetings with pre-posted agendas. The Moderator has no obligation to make or discuss his appointments in public — and he doesn't.
[2] Videos of the 6/11/20, 1/27/21, and 7/18/22 meetings are available on YouTube.
[3] In the past eight years, the AG's office has seven times determined OML violations based on complaints lodged against the Select Board (two during Boland's tenure) and one against the Zoning Board of Appeals. In fall of 2019, the AG ordered selectmen to attend OML training.
An additional 13 Complaints were filed (9 against selectmen). The AG's office ruled 10 not to be violations and declined investigating 3 more (2 based issues related to timing of the complaint being filed).
[4] In 2018, litigants in the Park Central case complained after finding that the board didn't maintain draft minutes of meetings from three meetings in 2014, including two that weren't recorded. At least one of the unrecorded meetings related to Park Central. The AG's office agreed on those issues and more.)
*Updated (2/10/23 10:41 am): I made two correction. One was to fix an error leaving "Vice" out of Bertonazzi's Vice Chair title. (As I had stated up top, Boland was elected Chair.) The other was my error in stating that Town Clerk Jim Hegarty had forwarded Fiore's complaint. Fiore emailed Boland and other officials directly. (The instructions in the email were ones she had received from the Town Clerk about the AG's required process.)