The Open Space Preservation Commission is hoping third time's the charm for their outdoor concert and Pollinator Garden events. The folk concert followed by a talk & tour was originally scheduled in celebration of Earth Day. Plans were scuttled twice due to rainy forecasts.
Now, OSPC hopes the sun will shine on their new date of Sunday, May 21st.
Both of the following free events will take place on the Southborough Library's Lawn. No registration is required.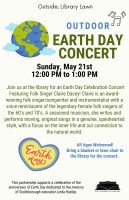 Outdoor Earth Day Celebration Concert
12:00 – 1:00 pm

Bring chairs or blankets to the Southborough Library grounds for this outdoor concert with Folk Singer Claire Dacey.
"Claire is an award-winning folk singer/songwriter and instrumentalist with a voice reminiscent of the legendary female folk singers of the 60's and 70's. A seasoned musician, she writes and performs moving, original songs in a genuine, openhearted style, with a focus on the inner life and our connection to the natural world."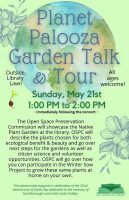 Garden Talk & Tour
1:00 – 2:00 pm

Immediately following the 1-hour concert, OSPC will showcase its Pollination Preservation Garden on the Southborough Library's grounds.
"We will describe the plants chosen for both ecological benefit and beauty and go over next steps for the gardens as well as citizen science and volunteer opportunities. OSPC will also go over how you can participate in the Winter Sow Project to grow these same plants at home."
No new rain dates are set. (Let's keep fingers crossed that the celebratory and educational events can take place without any further hitches.)
Reminder – The one other Planet Palooza event that was cancelled due to rain, the guided Town Forest walks, are taking place this Saturday, May 13th. Click here for those details.
Updated (5/19/23 10:40 am): OSPC added a native plant sale on Sunday. For those details, click here.