This week, the Planning Board held its first MBTA Mapping Workshop. For those that missed it (or have new thoughts to share that they didn't this week) there is another chance this Wednesday, November 8th.
A Planning Department member clarified that the input is for both the 10 acres of new zoning to be designated near the commuter rail station and the 40 acres beyond it.
(Initially, I had written based on the wording of the flyer that the focus wouldn't include the 1/2 mile "dome" near the train station.)
The Planning Board is attempting to comply with the state's MBTA Zoning regulations. For those not familiar, the intent is to find areas in town where multi-family housing up to 15 units per acre (on average) would be allowed "by right".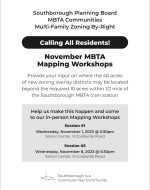 The second of two workshops will be held on November 8th at 6:30 pm in the Southborough Senior Center/Cordaville Hall (9 Cordaville Road).
The November 1st event had a good turnout of around 50 people. The Senior Center can hold more. So if you are interested, this is your chance to weigh in.
But, for those who did attend, it's not likely worth your time to return, unless you had new thoughts or changed your mind about what you previously told the board.
According to Planning's Colleen Stansfield, the discussion will cover the same ground as it did this week. It's mainly meant as a chance for people who couldn't make it to the prior session. (Although you are entitled to attend again if you want to observe the feedback, especially since it won't be streamed/broadcast.)
For those not familiar with the zoning initiative, you can read more context on what the board is doing and why in my prior post.