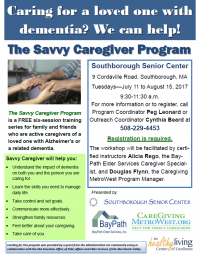 Throughout the summer, the Southborough Senior Center is hosting a special training program. The 6-part workshop will train people with a loved one suffering from Alzheimers or related dementia to become "Savvy Caregivers".
It's a free program, but registration is required.
Starting next week, sessions take place 9:30 – 11:30 am on Tuesdays.
Organizers offer to help participants:
Understand the impact of dementia on both you and the person you are caring for.
Learn the skills you need to manage daily life.
Take control and set goals.
Communicate more effectively.
Strengthen family resources.
Feel better about your caregiving.
Take care of you.
Funding for the program was provided by a grant from the Administration For Community Living in collaboration with the MA Executive Office of Elder Affairs and Elder Services of the Merrimack Valley.
For more details, see the flyer above right. To register or ask questions, call Program Coordinator Peg Leonard or Outreach Coordinator Cynthia Beard at 508-229-4453.