Every summer, I share options for attending community theater in the area. This summer, adult acting groups aren't putting on productions in neighboring towns.* But, there are several options for Children's Theater.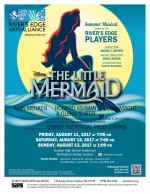 River's Edge Arts Alliance is putting on the Little Mermaid in August. The performance is Friday, August 11 & Saturday, August 12 at 7:00 pm, and Sunday, August 13 at 1:00 pm.
REAA is also putting on productions featuring child actors from its drama camps @ Assabet Valley Regional Technical High School:
Where the Wild Things Are (by grades 1-3) – Friday, July 14, 1:00 pm
Disney's Aladdin Jr. (by grades 4-6) – Thursday, July 20 & Friday, July 21, 7:00 pm
Legally Blonde Jr. (by grades 7-10) – Thursday, July 27 & Friday, July 28 at 7:00 pm
The Great Fairy Tale Mashup (by grades 1-3) – Friday, July 28, 1:00 pm
SkyRise Children's Theater is also producing plays featuring young performers:
The Adams Family (by ages 9-18) – 4th Annual Interactive Dinner Theater Experience – Friday, July 21 at 6:00 pm and Saturday, July 22 at noon, at Algonquin Regional High School
Disney's Lion King Jr. (by ages 8-17) – Friday, August 11 at 6:00 pm at Algonquin
Free summer series (by ages 5-15) – every Friday at 1:00 pm: Magic Wings (July 28, Algonquin), Pharoah's Mask (July 28, Westborough High), Yellow Tails (July 28, SkyRise Studio), Moon Cheese (August 4, Algonquin), Golden Goose (August 4, Westborough High), Whose Under My Bridge (August 18, Algonquin)
If you know of other plays in the immediate vicinity, please share it in the comments.
*Neither the Framingham Community Theater or Westborough Players are putting on productions during July & August this year.