Update (7/24/17 4:38 pm): Editor's Note: I just learned that Steve Curtis won't be able to make the July 27th concert.
Headliners for next week's concert are promising to "Rock Southborough" with Classic Rock, Latin, Motown, Rhythm & Blues, and Soul. On stage will be one player near and dear to many Southborough families – retired teacher, Steven Curtis.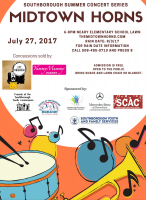 But Curtis is just one of several members of The Midtown Horns. The band recently posted:
Trumpet player, Paul Tomashefsky and renown saxophonist, Paul Ahlstrand, two seriously badass horn players, join the Midtown Horns on July 27 to round out our 5 piece horn section , which anchors our 13 piece band!!
It's the fourth of five free outdoor concerts taking place as part of this year's Southborough Summer Concert Series. (For the series schedule, click here.)
The concert takes place Thursday, July 27th from 6:00 – 8:00 pm at Neary School (53 Parkerville Road).
Friends of the Southborough Youth Commission will be collecting donations for Send a Kid to Camp. Donors of $10 or more will receive a free t-shirt commemorating this summer's concert series.
As always, the concert is on the lawn. So, bring blankets, chairs (and bug spray).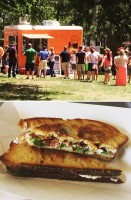 Next week's specialized food truck is Say Cheese, featuring gourmet grilled cheese sandwiches. And Yummy Mummy will be selling desserts again. But you are always welcome bring your own picnic to the concert.
The music series is again run by Southborough Youth & Family Services and the Recreation Department. It is also co-sponsored by: Friends of Southborough Youth Commission, Southborough Cultural Arts Commission, and Friends of Southborough Recreation, and Mercedes Benz of Shrewsbury.
Although I couldn't embed a sample of the band's music into this post, you can click here to listen to samples on their website.
Note: In the case of inclement weather, the concert will be pushed to August 3rd. For Rain Date information, call 508-485-0710 and press 8.