Southborough Youth and Family Services asked me to help them reach out to the community. They launched a newsletter to help educate the public on their services and intiatives.
You can read the full newsletter here. Or you can scan the highlights below, then see the flyer for more details on the areas that interest you.
Page two of the Quarterly newsletter touts their brand new Press Pause initiative. The campaign will replace Southborough UnScheduled with a year long push to encourage the public to:
schedule more time to be unscheduled, bring awareness to our relationship with technology, and rekindle relationships without the use of screens.
The first event in that series is geared towards both teens and adults.
On October 10th at 7:00 pm, join SYFS at the Southborough Library to discuss the book How to Break Up with Your Phone.
You don't need to read the book in advance to participate in the discussion. But if you're interested in the book, you can find out more details or reserve a copy through the Library here.
Also coming up in October is the deadline to sign up to be part of the mentoring programs Project Friend and Project Friend Plus. You can read more on page 3.
The newsletter also includes information on the department's support for serious issues in our community.
Page 4 lists their Needs Based Services for residents struggling financially:
Holiday Giving Program
Fuel Assistance
Transfer Station Sticker Fee Waivers
Emergency Funds
Smiling Kids Birthday Program
Camp Scholarships
You can find more details on qualifying for assistance in this flyer.
Page 5 describes their Counseling and Referral Services for community members seeking Mental Health assistance for themselves or family members. You can find more details in this flyer.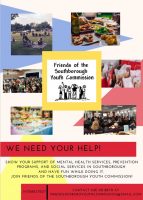 Page 6 lists upcoming events and deadlines. It also calls out for volunteers to help Friends of the Southborough Youth Commission. (There are more details in the newsletter than the flyer left.)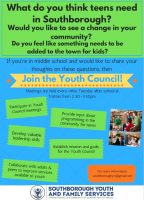 The final page further recruits, seeking junior members to join the Youth Council. (You can also see more about that in the flyer right.)
That page also lists important community resources. Finally, it explains the agency's involvement in The Northborough-Southborough Substance Abuse Prevention Coalition:
working together to reduce substance abuse and offer information for those needing substance abuse treatment.