This summer, I shared the news that the Boroughs Loop Trail would be opening this fall. Now, organizers are promoting an opening weekend in a few weeks.
The celebration will begin with a Ribbon Cutting on Friday, October 5th and continue with guided hikes the next day: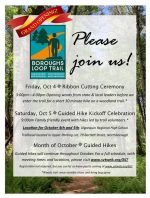 Friday, October 4th – Ribbon Cutting Ceremony
3:00 – 4:00 pm – Opening words from state & local leaders before we enter the trail for a short 30 minute hike on a woodland trail.
Saturday, October 5th – Guided Hike Kickoff Celebration
Gather at 8:45 am – Family friendly event with 9:00 am hikes led by trail volunteers (choose a 3 mile or 4 mile hike)
Both events will take place in Northborough at the trailhead from Algonquin Regional High School's Upper Parking Lot at 79 Bartlett Street.
There will also be guided hikes along the big trail through the month of October.
If you aren't familiar with the project – it's a 33 mile loop that will connect trails through Southborough, Northborough, Marlborough, and Westborough.
You can read more from past coverage here and find updated maps here.
Some of the details for the weekend's and month's events are still being hashed out. So, stay tuned.
Organizers hope to have more information posted to the website sometime next week. In the meantime, if you have questions, you can reach out to Southborough's Conservation Commissioner Melissa Danza at mdanza@southboroughma.com.
[Editor's Note: Flyers and articles have encouraged attendees to let organizers know that you're attending via the website. You can ignore that since registration isn't required and there is no registration/contact link posted yet.]
Updated (10/4/19 10:11 am): Details of the Saturday celebration have been posted. You can check them out here. The key detail, which I changed above, is families are asked to gather at 8:45 am so that both guided hikes can step off at 9:00 am. There will be two options to choose from:
Dan Stimson, of Sudbury Valley Trustees, will lead the hike North on the Boroughs Loop Trail for approximately 4 miles round trip. The second hike will be led by Mia McDonald, Northborough's Conservation Agent, heading south on the Boroughs Loop Trail for approximately 3 miles round trip.