Families with young book lovers take note. The Southborough Library Children's Room will be marching in the Heritage Day parade. They are inviting you to join them.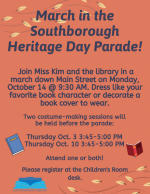 There is one catch – marchers will be in book themed costumes.
Kids (and parents if they choose) can dress up as characters from their favorite books.*
Or, you could dress up as the book itself. If that's the option you prefer, you'll want to take advantage of the costume-making sessions the Library is holding.
On Thursdays October 3rd and 10th, you're invited to come help decorate "book covers" to wear in the parade. The sessions will run from 3:45 – 5:00 pm. (Attend one or both.)
If you'd like to take part in the parade, please contact the Library Children's Room. You can stop by the desk, call 508-485-5031, or email kivers@southboroughma.com.
*If you prefer to dress up as characters rather than the books, I found many great ideas for cheap/easy book themed kids' costumes here. I also included some cute examples below I found on flickr.