The Friends of the Southborough Library will hold our annual Heritage Day Book Sale, Monday, October 14. We're accepting donations of gently-used books. You can drop off your book donations at the library up by the bench on the ground floor.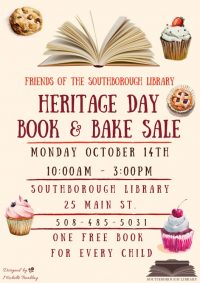 To go along with the book sale, is the annual bake sale. Contributors can drop off homemade baked goods to donate to the sale on Saturday, October 12 during library hours (10:00 am to 5:00 pm), or on Monday.*
As always, proceeds from the sale will benefit the Friends of the Southborough Library. Raised funds help support the popular museum pass program, special programming, refreshments for literacy programs, and other library needs not covered by the town budget.
We can always uses some more hands on deck for setup, cleanup, or help during the sale.
Of course, you can also help by saving the date and shopping at the sale. The book and bake sale will be held at the Southborough Library on Monday, October 14, from 9:00 am to 3:00 pm. We'll be giving away one free book per child, as usual.
For more information or to volunteer to help out at the sale, contact friends@southboroughlib.org.
*It would be extra helpful if you pre-wrap individual servings for selling, but isn't required.