As the gardening season comes to a close, the Southborough Library is offering a special program.
On October 3rd, Blackstone Valley Veggie Gardens will be back to talk about Closing the Garden.
One of the topics covered jumped out at me – seed saving.
The Southborough Library is working to put together a seed exchange program. It's not ready to go just yet, so you'll need to stay tuned for details.
Still, in preparation, you may want to take advantage of the chance to learn how to save seeds from this year's crops.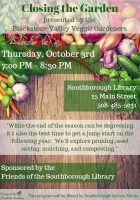 Even if you don't have any seeds left to save, the workshop should be worthwhile for gardeners:
While the end of the season can be depressing, it's also the best time to get a jump start on the following year. We'll explore pruning, seed saving, mulching, and composting.
The event will take place on Thursday, October 3rd at 7:00 pm on the main level. It's free and open to the public, no registration required.
The program is sponsored by the The Friends of the Southborough Library and will be filmed by Southborough Access Media.