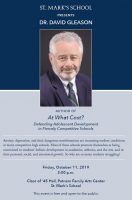 I guess it's that time of year. Another school is offering another talk by an expert author. This time, the invitation comes from St. Mark's School.
The private high school is inviting the public to hear from Dr. David Gleason. The speaker authored the book "At What Cost? Defending Adolescent Development in Fiercely Competitive Schools".
Anxiety, depression, and their dangerous manifestations are increasing student conditions at many competitive high schools. Most of these schools promote themselves as being committed to students' holistic development in academics, athletics, and the arts, and in their personal, social, and emotional growth. So why are so many students struggling?
The talk will take place on Friday, October 11th at 3:00 pm in the Class of '45 Hall, Putnam Family Arts Center. (Click here for the campus map.)
So, who is Dr. Gleason? St. Mark's website shares:
The founder of Developmental Empathy, LLC, Dr. Gleason has over 25 years of experience in professional clinical psychology. He provides counseling and consulting services as well as neuropsychological assessments for students in public, independent, and international schools.
You can find out more about him and the event here.
The talk is free and open to the public. No registration is required.