Carnival-style games, folk dancing, craft stations, temporary tattoos, pizza, and the always-popular bake sale. You'll find it all at the Finn Fall Festival next Friday, October 4th.
The event raises funds for the Finn SOS. But your children don't need to be Finn students to attend.
Fun is geared for preschoolers through early grades. (It's a great way to introduce future kindergartners to the school.)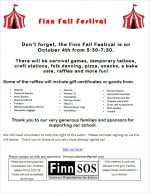 The celebration starts at 5:30 pm and runs until 7:30 pm. Many of the festivities are in the school's gym where only sneakers and socks are allowed, so dress accordingly.
If you missed today's deadline for buying tickets through the school, don't worry. Tickets will be sold at the door.
Admission is $7 each (max $25 per family), and includes entertainment, a slice of pizza and a drink. (Extra pizza is $1/slice.) All proceeds benefit Finn SOS.
You'll also want to bring some additional cash for raffle tickets. As usual, they'll be raffling off some great prizes. Plus, be prepared for the always accompanying Scholastic Book Fair.
If you'd like to volunteer to help run the event, please email finnsosvolunteer@gmail.com.