St. Mark's School is continuing its Southborough Sounds series. The first concert of the 2019-20 season features an encore performance by pianist Ilya Kazantsev. This time, he'll be playing several pieces composed by four Romantic masters.
The school invites the public to purchase tickets for the public concert series:
Great Music at St. Mark's, will kick off its 2019-2020 season with a solo recital by internationally acclaimed pianist Ilya Kazantsev. The concert will take place in the near-perfect acoustical environment of the Class of 1945 Hall, Putnam Family Arts Center, on the St. Mark's Campus. The 3:30 p.m. concert is preceded by a 2:45 p.m. public lecture about the day's music. At the intermission, refreshments will be sold to benefit the St. Mark's Haiti Partnership, a group of students and teachers who raise funds in support of a partner school, St. Marguerite's, in LaTournelle, Haiti. . .

Tickets may be purchased at the door, or season tickets are available at the website, where you can also learn about the other six concerts in the series: www.southboroughsounds.org.
Directions: At GPS 31 Marlboro Road, enter at the blue sign: "Arts and Athletics Parking".
The flyer details that the pianist will perform Romantic Masterworks for Piano:
Johannes Brahms – Two Rhapsodies, Op. 79 and Three Intermezzi, Op. 117
Franz Liszt – Mephisto Waltz No. 1, "The Dance in the Village Inn"
Pyotr Ilyich Tchaikovsky – "Dumka" Op. 59
Sergei Rachmaninov – Two Preludes: Op. 32, No. 12, G-Sharp Minor and Op. 32, No. 10, B Minor, plus Sonata No. 2, Op. 36, B-Flat Minor
Tickets for this Sunday's concert (and future concerts in the series) are free to students. General admission is $25 or $20 for seniors.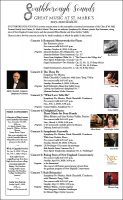 The series is the first of seven this school year. You can purchase season tickets for $175 per person or $140 per senior. Those will cover the following additional concerts:
Nov 3 at 3:30 pm – Symphony Pro Musica with violinist Inmo Yang
Feb 2 at 3:30 pm – Symphony Pro Musica
Mar 1 at 3:30 pm – Piano Four Hands with Ellina Blinder and Irina Kotlyar Vulikh
Mar 29 at 3:30 pm – Symphony Pro Musica with pianist Sean Botkin
April 19 at 3:30 pm – Virtuosi of New England Conservatory
May 17 at 3:30 pm – Symphony Pro Musica with cellist Zlatomir Fung
Note: If you already purchased Symphony Pro Musica season tickets separately, you can buy tickets for the other three concerts in the St. Mark's series for $75 per person or $60 per senior.
For more details on the season, click the flyer image above right to open the pdf. You can also purchase season tickets online here.*
As for this week's performer – Kazantsev played in the school's series last February. At that time, I shared that a Washington Post review characterized his 2013 performance of another Rachmaninov piece as "virtually flawless". If you enjoyed last year's series, you may also have witnessed his performance as part of the Hermitage Piano Trio in May.
The school shared more details on Kazantsev's "fresh and exciting presence on the international music scene". Here is his bio:
He has performed extensively with orchestras in Russia and the United States, as well as appearing in recital in Germany, Japan, Italy, France, Canada, Ukraine, Belarus, Russia, the United States, and Slovenia. His many awards and honors include first prize at the Nikolai Rubinstein International Competition (Paris); he also won the International Chopin Competition (Moscow) and the 2007 & 2008 World Piano Competitions (Cincinnati).

In 2014, Ilya was invited to join the esteemed Hermitage Piano Trio, which also includes the renowned soloists Misha Keylin (violin) and Sergey Antonov (cello). An enthusiastic advocate of contemporary music, Ilya has presented numerous premieres of works by contemporary American, Russian, and Eastern European composers, many of which have been dedicated to him. His advanced studies have included working with such prominent contemporary music specialists as Jay Gotlieb, Mark Ponthus and the legendary composer and conductor Pierre Boulez, who praised Ilya for his thoughtful performance of the composer's Douze Notations.

Ilya began his music studies in his native Moscow and at the age of nine was accepted as a student of Valeriy Pyasetsky at the Central Music School at the Tchaikovsky State Conservatory. Subsequently, he moved to the United States in 2002 to continue his studies at the Mannes College of Music and the Manhattan School of Music, working with Arkady Aronov. He currently resides in Boston, Massachusetts. St. Mark's School is honored to have Mr. Kazantsev as a piano teacher and accompanist.
*At the time I scheduled this post, the series website stmarksschool.org/southboroughsounds wasn't updated with this season's details yet. I was told that it would be by Monday. If it is still showing last season's info, check back later in the day.