Here are highlights of what's happening around town this week.
[Note: The highlights don't include ongoing weekly programs. For those listings and more, check the Event Calendar.]
Monday, September 30, 2019
Public School closed for Rosh Hashana: Southborough and Northborough public K-12 schools are closed.
Tuesday, October 1, 2019
Bike/Walk the River Greenway (9:00 am – 10:00 am) @ carpool from Senior Center: Outing for active seniors organized by the Trailblazers. Bike or walk the River Greenway from Woonsocket to Lincoln RI. Trip includes a picnic lunch after the ride/walk. Pre-register at the Senior Center, 508-229-4453. Donation: $10. See the Trailblazer's fall flyer.
Knitting Club (Senior Center Program) (1:00 – 2:00 pm) @ The Southborough Senior Center, 9 Cordaville Rd: Come join a wonderful group of ladies working on their own creations and discussing community projects. Stop by for a cup of coffee/tea and visit with the group or join right in! For details, contact the Senior Center at 508-229-4453 See: flyer.
Wednesday, October 2, 2019
First Wednesday Book Group (11:00 am – 12:30 pm) @ Southborough Library, Main Floor: Please join several community members for a monthly morning book club the first Wednesday of the month at the Southborough Library. Led by local resident Lyn Forand. To join the group, email Over50andSR@msn.com.
Exciting Women's Circle (Senior Center Program) (11:00 am – 11:00 am) @ Bertucci's in Framingham: A social group for women through the Senior Center. New members always welcome. The group meets monthly, usually at the Senior Center with occasional field trips. This session: A social lunch. Meet at the Senior Center at 11:00am or at the Restaurant at 11:30am
Legos at the Library (3:45 – 5:00 pm) @ Southborough Public Library, Eaton Room: Children are welcome to come build with Legos, and display their creations in the Children's Room. Legos will be provided, but all materials need to remain at the library. Parents or caregivers must stay with children during this event.
ARHS College Fair (6:00 – 8:00 pm) @ Algonquin Regional High School gym: Algonquin will be hosting representatives from more than 90 colleges for their Post Secondary College Fair. All students and parents are welcome!
Thursday, October 3, 2019
Heritage Day Parade Costume Making (3:45 – 5:00 pm) @ Southborough Library, Eaton Room: In preparation for a library march with Miss Kim for Heritage Day Parade, we are excited for patrons to help create book characters and decorate book covers to wear! You can attend one or both costume-making sessions before the parade. Please register at the Children's Room desk. For details, see dedicated post.
Prevent bullying of students with special needs (6:30 pm) @ Floral Street School Media Center, 57 Floral Street, Shrewsbury: The Northborough Southborough Special Education Parent Advisory Council has co-sponsored this presentation with the Shrewsbury and Westborough SEPACS: Massachusetts Anti-bullying Law. Please RSVP by 10/1 to shrewsbury.sepac@gmail.com. For details, see dedicated post.
Closing the Garden (7:00 – 8:30 pm) @ Southborough Library, Main Floor: Presented by the Blackstone Valley Veggie Gardens. "While the end of the season can be depressing, it's also the best time to get a jump start on the following year. We'll explore pruning, seed saving, mulching, and composting." Program will be filmed by Southborough Access Media. Sponsored by The Friends of the Southborough Library. For details, see dedicated post.
Friday, October 4, 2019
Finn & Woodward Principal Coffee – School Safety (9:30 am – 10:30 am) @ Finn School Library: Parents of Finn and Woodward students are invited to join Mr. Mucci and Mr. Ryan for an informational discussion on safety practices at the schools.
Drop-in Chess (2:00 – 4:30 pm) @ Southborough Library, Eaton Meeting Room: The first session in this fall's reformatted series – Join us every Friday afternoon this month as we reconfigure the Eaton Room into a gaming space for players of all ages. Bring a friend, or make a new one, as attendees play the competitive classic game: Chess. For details, see dedicated post.
Boroughs Trail Ribbon Cutting (3:00 – 4:30 pm) @ Trailhead from Upper Parking Lot at Algonquin Regional High School, Northborough: Ceremony celebrating the opening of the Boroughs Loop Trail connecting trails through Southborough and neighboring towns. Opening words followed by a 30 minute hike on a woodland trail. For details, see dedicated post.
Finn Fall Festival (5:30 – 7:30 pm) @ Finn School: Finn SOS annual fundraiser – includes carnival games, pizza, raffles, bake sale, book sale and more. For details, see dedicated post.
Saturday, October 5, 2019
Boroughs Trail Guided Hike Kickoff Celebration (9:00 am) @ Trailhead from Upper Parking Lot at Algonquin Regional High School, Northborough: Family friendly event with hikes led by trail volunteers. For details, see dedicated post.
Fay School Farmers Market (10:00 am – 1:00 pm) @ Harlow Circle in front of Fay's Primary School, 25 Middle Rd: Each market will feature local produce, prepared food, and handmade goods by local vendors, as well as crafts for children, games, and musical performances by Fay students and faculty members. This week's theme for kids activites and entertainment is Star Wars. For details, see dedicated post.
Entrepreneurship Workshop (2:30 – 3:30 pm) @ Southborough Library, Eaton Room: Presentation from Algonquin student Joseph Zhang will cover: How to start a publication/blog with WordPress, finding your niche, and lessons about entrepreneurship from personal interviews with Quizlet, Fiverr, and Mark Cuban. Check out Joseph's blog.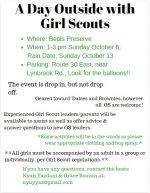 Sunday, October 6, 2019
A Day Out with Girl Scouts (1:00 – 3:00 pm) @ Beals Preserve: For details, see flyer right. Geared toward Daises and Brownies, however all GS are welcome. Event is drop-in not drop-off. See flyer right for more details.
Southborough Sounds: pianist Ilya Kazantsev (3:30 pm) @ St. Mark's School, Putnam Family Arts Center, Class of '45 Hall: Pianist Ilya Kazantsev will perform Romantic Masterworks. For more details, see dedicated post.
Blessing of the Animals (5:00 pm) @ St. Mark's Episcopal Church: Bring your pets to receive the annual blessing from Father Phil LaBelle.
Updated (10/1/19 10:17 am): I just learned about Sunday's blessing of the animals.