The South Union Building was site of a new Open Mic series launched in January, featuring music and poetry. With the restrictions on gatherings, organizer Sophia Brady had to postpone the second night scheduled for March. Now she's retooling it as a virtual series.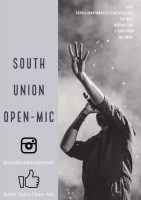 In more good news, Brady is expanding the event beyond the original age group. She'll host dedicated nights for three age groups from ages ten to adult:
Ages 10-14 on Monday, May 18th
Ages 15-21 on Tuesday, May 19th
Ages 22+ on Wednesday, May 20th
Each Open Mic Night will take place from 5:00 – 7:00 pm on zoom. Performers are capped at ten per evening. To be one of them, email sophia.brady@worcesteracademy.org.
Although less likely to quickly fill up, attendee spots are also limited. So be sure to sign up through the
Facebook events
. Registration is due by the 18th.
Brady organized the series as part of her Girl Scout Gold Award project. You can follow her social media posts about the series on instagram.