The Southborough Library is partnering with Youth & Family Services for May's virtual book group. Weekly sessions will focus on the memoir Beautiful Boy: A Father's Journey Through His Son's Addiction.
David Sheff's story is a first: a teenager's addiction from the parent's point of view, a real-time chronicle of the shocking descent into substance abuse and the gradual emergence into hope.

Before meth, Sheff's son, Nic, was a varsity athlete, honor student, and award-winning journalist. After meth, he was a trembling wraith who stole money from his eight-year-old brother and lived on the streets. With haunting candor, Sheff traces the first warning signs, the attempts at rehabilitation, and, at last, the way past addiction. He shows us that, whatever an addict's fate, the rest of the family must care for one another, too, lest they become addicted to addiction.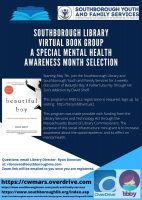 A number of free "books" are still available to "check out" using your Southborough Library card:
If you don't have a Library card, click here to sign up for a temporary one.
To take part in the weekly group, register for the free program through Southborough Recreation. (Rec launched a new database over the winter. If you haven't created an account on it yet, you'll need to do that first.)
Discussions will take place on Thursdays at 8:00 pm. The first one is this week, but don't fret. You don't have to read the whole book up front. For the May 7th session, they're just asking participants to tackle the first 55 pages.
The event is part of SYFS' Mental Health Awareness Month programming. The Library shared:
eBooks of this title were made possible with grant funding from the Library Services and Technology Act [LSTA] through the Massachusetts Board of Library Commissioners [MBLC]. The purpose of this social infrastructure mini-grant is to increase awareness about the opioid epidemic and its effect on mental health.