I have two gardening related items to share, so I'm combining them.
Southborough Gardeners
Sadly, the Southborough Gardeners won't hold their pre-Mother's Day Sale this weekend. (In normal days, the annual sale offers a great variety of plants for your gardens and gifts – plus their expert advice. You can read more about that in last year's post.)
The group shared that while they can't hold the gathering, they are still working to beautify Southborough.
Current projects include the urns outside the Southborough Library and the triangle at Rte. 85 and Framingham Road. (Click on images below.)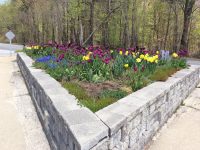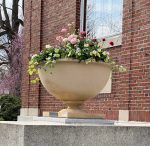 For more details about the group, you can check out their website and follow them on Facebook.
Southborough Community Garden Plots
Southborough Community Garden is getting ready to divvy up garden plots on the Breakneck Hill Conservation Land again.
The public is invited to buy spots to plant veggies, herbs, or annual flowers. Acknowledging Covid-19, this year's rules begin:
In light of the pandemic and its accompanying disruptions please follow local Board of Health & mass.gov COVID-19 Guidance and Directives.
At this point, that should mean that you'll be required to wear face masks when others are around and to try to keep your distance.
Those aren't the only revisions this year.
Changes also include pricing and availability of plots. Only one size plot is available (10×20), only offered to Southborough residents, and the $50 fee applies to everyone (including seniors).
Language around use of chemical pesticides on the conservation land has been strengthened from discouraging it to outright prohibiting it:
If using, insect and disease controls and fertilizers shall be organic, or derived from natural materials. Such fertilizers include compost, rock dusts, meals made from plants, etc. Pest
controls include soaps, oils, plant extracts, etc. The usage of pesticides and herbicides can only be applied per state law by a licensed applicator and approval from the Conservation Commission therefore they are not allowed at the Community Garden.
Plots will be assigned based on the date stamped in the envelope by the US Post office. (Requests for reassigning locations will not be allowed.)
There are other changes and clarifications since last year. So, make sure to read the updated 2020 rules.
For details or to sign up, click here to open the pdf. For more information, email ikerber@southboroughma.com.