This year, Corridor 9/495 Regional Chamber awarded $15,000 to be split among 15 students from Southborough, Northborough, Westborough and Shrewsbury. The recipients included six seniors from Algonquin Regional High School.
The ARHS recipients are (pictured L-R, top – bottom):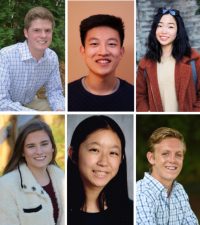 Sam Robert, Joseph Zhang, Nadia Wong
Lauren Robert, Grace Tang, Quinn Potter
The award was $1,250 higher than originally promised when the opportunity was promoted in December. The Chamber of Commerce's announcement this week stated:
The Corridor 9/495 Regional Chamber is proud to present the recipients of our 2020 Scholarship awards. A total of $15,000 was awarded in scholarships to graduating high school students who reside in one of the Chamber's core towns and are pursuing a career in business, demonstrate excellence in academics, leadership, and have work experience.

Proceeds for the scholarships were raised from the generous sponsors and supporters of the Chamber's Annual School/Business Partnership Golf Tournament. Special thanks to Central One Federal Credit Union as the title sponsor of the tournament, Howard Grossman of Grossman Development as the contributor to the Lakeway Commons Scholarship Fund for Shrewsbury students, and the Robert J. Lemieux Trust Fund supporting our students with financial need.

Since 1986, the Chamber has awarded a total of $378,056 in scholarships to 513 students.
For the full list of recipients, click here.