A new Youth in Philanthropy group is being formed in Southborough. This one welcomes on high school aged students to join. It's open to those who live or learn in town, plus non-resident Algonquin students.
For those of you not familiar with YIP, members are charged with determining how to distribute grants to nonprofits benefiting youth. They learn about community needs, research and visit local nonprofits to learn about programs. As a group, they discuss and evaluate what they learned, then select and award up to $10,000 in grants.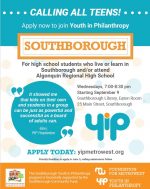 The Foundation for MetroWest promotes its YIP program as
an experiential leadership development program designed to empower and educate local youth to become our community's next generation of philanthropists – those who give their time, talent, and treasure for the common good.
The Foundation's website touts:
Since 1997 our YIP program has empowered hundreds of youth to invest over $1 million to support youth-serving nonprofits in our region. YIP helps students gain the knowledge, confidence and skills to take on leadership roles and pursue a lifelong passion for giving back.
The priority application deadline for the Southborough 2020 program is Friday, June 5 at 5:00 pm.
The program will run for 17 weeks, beginning on September 9th. Meetings are planned for the Southborough Library's Eaton Meeting Room from 7:00 – 8:30 pm on Wednesdays, through January 28th. (See schedule here.)
The Southborough chapter is made possible through funding by the Southborough Community Fund. For details on the town's chapter, click here. For more general information about YIP, visit yipmetrowest.org.
Students can apply via written application, interview, or video. Click here to apply. (Students who apply by the priority deadline, 5:00 pm on June 5th, will hear back by June 19th. After that, applicants will be considered on a rolling basis, as space allows.)