The Southborough Library hasn't been able to hold its usual Author Nights this spring. That changes a week from tonight. (Well, maybe not the "usual" part.)
The Library is holding an online event with Meredith O'Brien on the 20th. (Pre-registration is required, so sign up soon.)
As I previously posted, the Southborough author published a memoir about her "life altering diagnosis of multiple sclerosis". During next week's Virtual Author Event, she'll be reading from the book and talking about her experiences.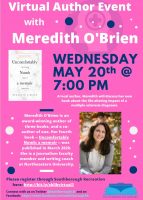 The Library promotes:
Join us for a Virtual Author Event with Meredith O'Brien on Wednesday May 20 at 7:00 PM. A local author, Meredith will discuss her new book about the life-altering impact of a multiple sclerosis diagnosis.

Meredith O'Brien is an award-winning author of three books, and a co-author of one. Her fourth book — Uncomfortably Numb: a memoir — was published in March 2020. She is a journalism faculty member and writing coach at Northeastern University.
Registration is being coordinated by Southborough Recreation. Rec's registration page details include a free drawing:
A live reading & follow up discussion from the author of Uncomfortably Numb: a memoir about the life-altering diagnosis of multiple sclerosis by Meredith O'Brien.

Meredith will providing a free signed copy of the book to one lucky recipient. Be sure to register with your mailing address in order to be entered into the drawing.
Click here to sign up. (If you aren't yet in Rec's new database launched earlier this year, you'll need to create an account first.)