Tonight kicks off the virtual version of the South Union Open-Mic series. There are still some slots left for those who want to perform in one of the three age groups. Registration is due ASAP, with the youngest acts at mic tonight.
Performers will be singing, playing music, or reciting poetry. Anyone interested in performing, or who has questions, can email sophia.brady@worcesteracademy.org.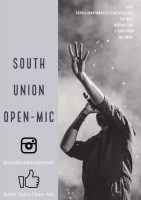 The public is also reminded to pre-register to "attend" the events taking place tonight through Wednesday.
Each event will take place from 5:00 – 7:00 pm on zoom. Below are the Facebook event links:
Organizer Sophia Brady organized the series as part of her Girl Scout Gold Award project. You can follow her social media posts about the series on instagram.